1. The CSS 3 Page Model
This section is informative.
The current Page Model, as described in CSS3 Module: Paged Media [CSS3PAGE], is the following one: the printable area of a page, the page box, is made of one page box itself divided in four areas: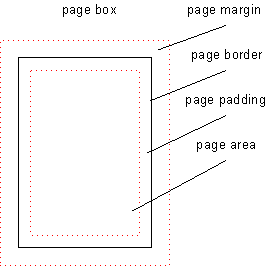 the page margin; that area is itself divided into 16 page-margin boxes (@top-left-corner, @top-left, @top-center, etc. )

The 16 page-margin boxes
(with highlight of 3 of them)

It's is possible to flow content, for instance page headers and footers or footnotes, into a page-margin box using features introduced by the CSS Generated Content for Paged Media Module [CSS3GCPM].
It is also possible to define multiple page templates for a single document using the @page at-rule that allows to select the first page, left pages, right pages or named pages of a paginated flow.
If this page model allowed the publishing industry to adopt HTML and CSS as pivot formats, it starts showing its limits for the following reasons:
the 16 page-margin boxes are an extension of the print features offered by desktop browsers. Desktop browsers usually offer control over 6 page-margin boxes only. Only one desktop browser claims implementation of the page model described above in the fourteen last years. The other desktop browsers' control over the 6 page-margin boxes is then not achieved through the cascade of CSS UA stylesheets.

no editing environment available on the market and in particular Wysiwyg text editor (for instance like Microsoft Word) implements such a box model.

it's not possible with the current model to position headers and footers (for instance the HTML5 header and footer elements) arbitrarily in the page area.

the @page at-rule currently allows nested at-rules only for the definition of page-margin boxes. Similarly, the set of CSS properties applicable to a page box is limited and it is impossible in this model to use CSS Regions Module Level 3 [CSS3-REGIONS] to flow content into a given predefined area of a page, exclude an area from the page using CSS 3 Exclusions and Shapes Module [CSS3-EXCLUSIONS], lay out the page area into a grid using CSS Grid Layout [CSS3-GRID-LAYOUT] or using ''@slot rules that were discussed multiple times by the CSS Working Group in the recent past. The successful electronic book editing environment of Apple Inc., iBooks Author, already allows @page rules to specify arbitrary slots, arbitrary exclusions and shapes, and extends the list of applicable properties; most of its advanced layout capabilities are based on these features.

the @page rule of CSS 2.1 [CSS21] is intended for use on print media, not dynamic media. The spread of complex HTML-based slideshows and electronic book viewers has shown that the Page Model should also apply to screen media and alike.

++TBD